GREENSBORO, North Carolina- Intercropping cowpea with vegetable crops can increase yields up to 50% according to a new report from the Southern Sustainable Agriculture Research and Education program.
Cowpea is a nitrogen-fixing legume originally domesticated in Africa. Known for its black-eyed peas that are common in southern cooking, it has a high tolerance for sandy, loamy soil and low rainfall.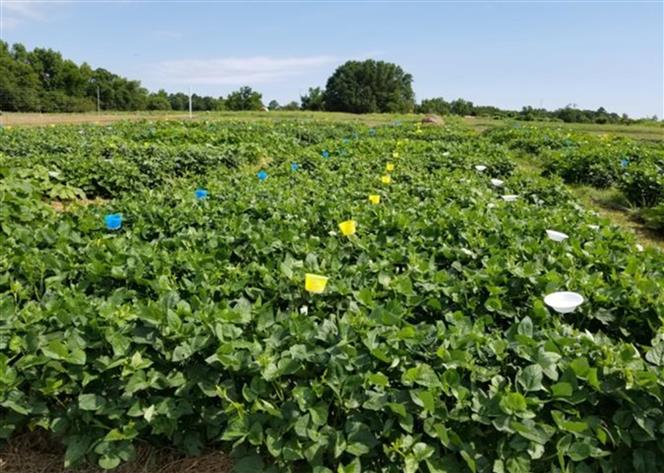 Conducted at North Carolina A&T State University, this research shows that planting cowpea alongside pollinator-dependent vegetable crops like okra, squash and watermelon can significantly increase yields under the right conditions.   
Beatrice Dingha, the principal investigator on the project and research associate professor at North Carolina A&T State University, took an interest in using cowpeas to increase sustainability while working with a colleague on a research project studying cowpea pests.
"We were studying six cowpea varieties in an entomology study and noticed that some varieties attracted a lot more pollinators than others. While this wasn't the focus of our research, we got curious and decided to set up a project to screen as many cowpea varieties as possible to see if we could back up our visual observations with evidence."
According to Dingha, cowpea offers significant potential in intercropping systems.
"Most plants used in intercropping programs today only offer one or two benefits. Commonly used plants like clover can reduce weed pressure and help stabilize the soil but they don't produce a marketable product. Cowpea can allow producers to grow two marketable crops in a field. At the same time, cowpea attracts more pollinators and fixes nitrogen in the soil. Cowpea is an overlooked crop for intercropping programs," said Dingha
Funded through a Southern SARE Research and Education Grant in 2017, the project screened 25 varieties of cowpea to find those best suited for intercropping. Then the team developed an intercropping protocol to maximize yields in the vegetables while capturing the most benefits from the cowpea plants.
The team started by establishing experimental plots of cowpeas in two locations: the NC AT&T research farm in Greensboro, North Carolina and the Fort Valley State University Research Farm in Fort Valley, GA.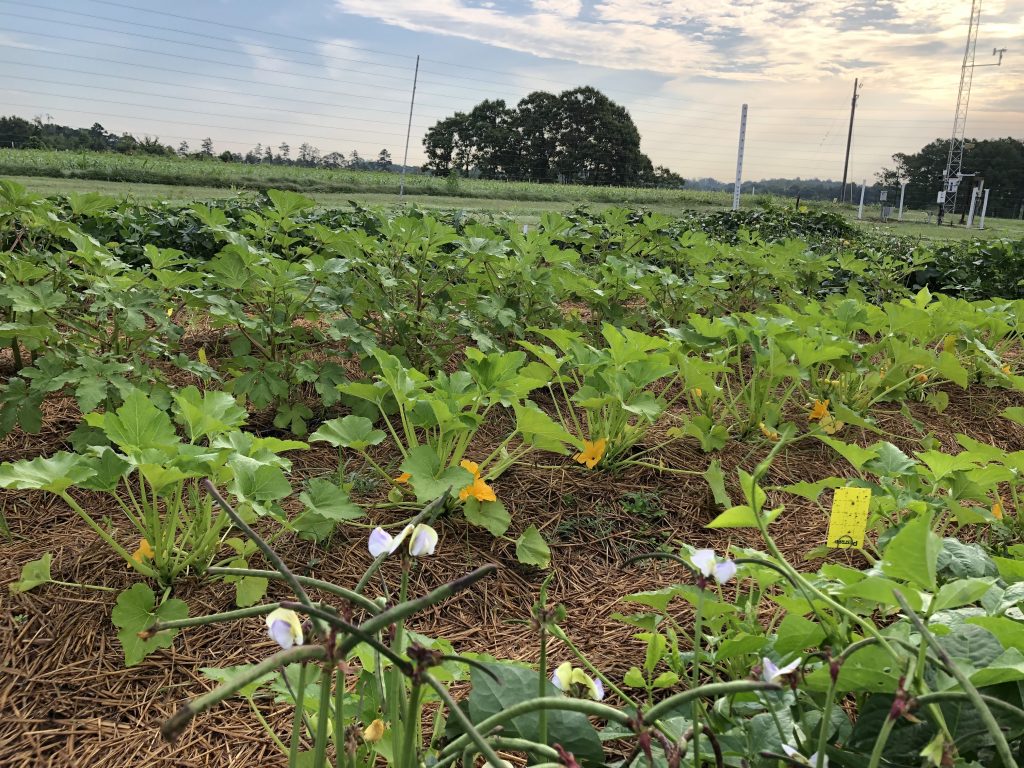 Each plot was mulched and planted on one meter spacing. No insecticide or fertilizer was used to identify cultivars with resistance to pests and diseases. Each plot was replicated four times.
Within each plot, the researchers used pollinator traps and daily observation to measure the number of pollinators, disease and pest pressure. The team also measured nodulation efficiency, chlorophyll content and the yield of the cowpea at the end of the growing season.
After evaluating all the varieties tested, the team selected Dixielee, Penny Riley, Whippoorwill Steel Black, Whippoorwill and Pinkeye Purple Hull as the top five varieties.
"These varieties showed the best performance in our research. After considering what varieties were the most popular with consumers, we decided to take the Whippoorwill and Pinkeye Purple hull varieties into the second phase of the project. However, it's important for producers to consider all of these varieties and pick the one that fits their farm the best. All of these varieties show promise in intercropping systems," said Dingha.
In the second phase of the grant project, the researchers tried several intercropping protocols and compared them to monocropping on okra, squash and watermelon. In all intercropping plots, the vegetable crop was planted in the center and the cowpea was planted along both sides. In some plots, only one cowpea variety was planted. In other plots, both Pinkeye Purple Hull and Whippoorwill were planted together.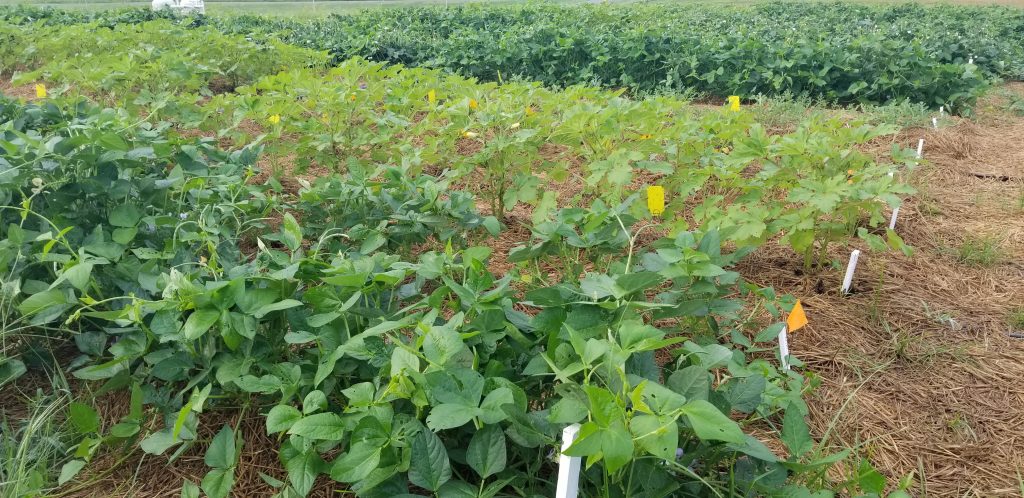 After assessing the data collected from the first year of intercropping, the researchers noticed higher vegetable yields in the intercropped plots but also noticed that the cowpea plants and vegetable plants did not flower at the same time.
"We looked back at our data to see when the plants started to flower, and adjusted our planting schedule to synchronize flowering. We saw an abundance of pollinators when everything flowered at the same time," said Dingha.
Regardless of the variety of cowpea or vegetable, the team saw a 50% increase in pollinators in the intercropped plots over two growing seasons when compared to the monocropped plots.
They also saw a clear increase in vegetable yield. Okra yields increased by 7%. Squash saw a yield increase of 27% and watermelon yields increased by 54%.
"Intercropping works. Depending on the farm and the crops grown, the process will need to look different to get the best results but our research showed that intercropping does work. I would encourage all farmers to implement it on their operation," said Dingha.
---
Published by the Southern Region of the Sustainable Agriculture Research and Education (SARE) program. Funded by the USDA National Institute of Food and Agriculture (NIFA), Southern SARE operates under cooperative agreements with the University of Georgia, Fort Valley State University, and the Kerr Center for Sustainable Agriculture to offer competitive grants to advance sustainable agriculture in America's Southern region. This material is based upon work that is supported by the National Institute of Food and Agriculture, U.S. Department of Agriculture, through Southern Sustainable Agriculture Research and Education, under sub-award number: LS17-279. USDA is an equal opportunity employer and service provider. Any opinions, findings, conclusions, or recommendations expressed in this publication are those of the author(s) and do not necessarily reflect the view of the U.S. Department of Agriculture.
Want more information? See the related SARE grant: