Supporting the family farm, promoting conservation, and strengthening communities through sustainable agriculture strategies.
Explore our grants

What is Sustainable Agriculture?
Every day, farmers and ranchers develop new, innovative strategies to produce and distribute food, fuel and fiber sustainably. The expertise of farmers, ag professionals, and others in the ag community is invaluable when coming up with sustainable solutions to agricultural challenges.
Learn More
Featured News

Nutrient Management
Louisiana Farmer Using Drone Technology to Maximize Nitrogen Efficiency in Row Crops
LAKE PROVIDENCE, Louisiana – Corn and cotton crop producer Nolan Parker is taking to the skies to decrease nitrogen runoff from commodity farms along the Mississippi River. The young farmer, who is a Federal Aviation Administration (FAA) certified remote pilot and works routinely with unmanned aerial systems (UAS), combined drone technology with variable rate nitrogen […]
Our Impact
The Sustainable Agriculture Research and Education (SARE) program is a decentralized competitive grants and education program operating in every state and territory.
Using Summer Cover Crops for Organic No-till Broccoli
SSARE funding helps South Carolina farmers control weeds through better cover crop mixes.
$86
million
in funding since 1988
1,418 projects
funded since 1988
About Southern SARE
Southern SARE offers competitive grants and educational opportunities for producers, researchers, educators, institutions, organizations and others exploring sustainable agriculture in America's South, Puerto Rico and U.S. Virgin Islands.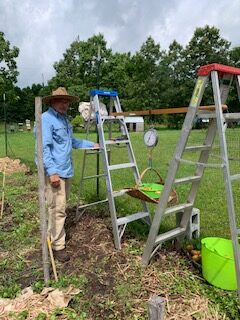 Sweetgrass Garden has engaged in years of on-site research comparing various soil amendments, We have to thank SSARE for supporting the research mission of Sweetgrass Garden from the beginning. SSARE has been instrumental all along the way in supporting our research to improve soil health as we provide free fresh produce for residents in need in our community. Our not-for-profit mission has evolved over 10 years. It is still going strong, and now we have the foundation for a for-profit business to sustain the original not-for-profit farm.

Learn about Southern SARE