For the third year in a row, a national survey of farmers has shown that cover crops improve corn and soybean yields while providing a host of other benefits. The survey of more than 1,200 farmers revealed that cover crops boosted 2014 corn yields by an average of 3.7 bushels per acre (2.1 percent) and soybeans by 2.2 bushels per acre (4.2 percent). Cover crop acreage per farm more than doubled over the past five years.
Download the full survey report. (Reports from previous cover crop surveys are also online.)
The survey was conducted by the Conservation Technology Information Center (CTIC) with funding from USDA's Sustainable Agriculture Research and Education (SARE) program and the American Seed Trade Association (ASTA). While the survey showed yield increases among growers who use cover crops, they are interested in more than the yield benefit. The three most-cited benefits of using cover crops were:
increased soil health (22 percent)
increased organic matter (20 percent)
reduced soil erosion (15 percent)
"This shows a strong appreciation for the wide range of long-term benefits cover crops deliver," says Chad Watts, CTIC program director.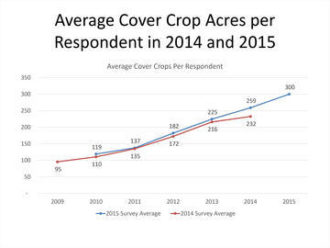 Increasing acreage of cover crops.
The survey also provided insight into why growers use or do not use cover crops. Growers cited the top challenges to growing cover crops as:
establishment (22 percent)
cover crop seed cost (20 percent)
time and labor required for planting and managing cover crops (19 percent)
The survey provides powerful insight on the role of markets and financial programs in influencing cover crop decisions. "Nearly three-quarters of the cover crop users in the survey said commodity prices have little or no influence on whether they plant cover crops," says Rob Myers, regional director of Extension programs for North Central Region SARE. "Many people speculate that low corn and soybean prices would stall the growth of cover crops, but the farmers in the survey are telling us—and demonstrating—that the benefits of cover crops outweigh lower commodity price considerations."
On the other hand, 92 percent of the farmers who do not currently plant cover crops say economic incentives would somewhat or always influence cover crop adoption. "These results illustrate that economic incentives can help encourage farmers to consider cover crops, but once they start using them, the multiple benefits they are seeing will motivate them to continue using covers," Myers notes.
The extensive survey, which was distributed with assistance from Corn and Soybean Digest and gathered perspective from 1,248 farmers—84 percent of whom plant cover crops—also gathered data on a wide range of issues, from management practices to landlord attitudes about cover crops to the most influential sources of information on the practice.
Watts says the survey will be a valuable tool for farmers, ag retailers, conservation advisors, policy makers and many others interested in conservation agriculture. "The survey results provide insight into the thinking behind cover cropping decisions and will help guide the research, education and promotion of the practice around the country," he says.
Download the 2015 survey report.
--30--
The Sustainable Agriculture Research and Education (SARE) ­program's mission is to advance—to the whole of American agriculture—innovations that improve profitability, stewardship and quality of life by investing in groundbreaking research and education. SARE is supported by the National Institute of Food and Agriculture (NIFA), USDA. This news release was published by SARE Outreach, which develops and disseminates information about sustainable agriculture. For more information visit sare.org.