JOELTON, Tennessee – David Wells' long-time interest in bioremediation through mycology (the study of fungi), has mushroomed into a farming operation whose foundations are balanced on building diverse ecosystems, while growing healthy foods.
Henosis, located in the small rural town of Joelton just west of Nashville, utilizes local by-products from wood mills and coffee shops to grow mushroom products, such as grow kits of shiitake and oyster mushrooms.
Wells said that the operation helps fill a growing demand for specialty mushrooms, but there are many aspects of the industry still left exploring that address environmental concerns, while maintaining farmer profitability – especially in an area of rural Tennessee where lack of resources, coupled with the COVID pandemic, has stifled the growth of local foods industries.
One potential solution that Wells is pursuing through a Southern Sustainable Agriculture Research and Education (SSARE) Producer Grant addresses managing mushroom waste (spent mushroom substrate) to create a value-added structure.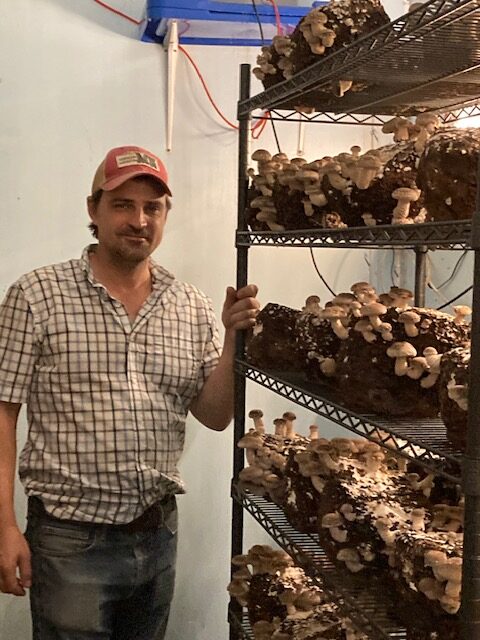 "Piles of half-decomposed sawdust blocks have enormous potential to become compost for secondary enterprises," said Wells. Mushroom waste, the substrate on which the mushrooms grow, are generally discarded by farmers, leaving valuable economic and ecological assets on the ground.
In the SSARE Producer Grant project (FS21-331), "Successional Mushroom Production: Farming multiple species of mushrooms on one substrate to lower input cost, and Increase Revenue and Products Sold," Wells is recycling spent mushroom substrate to grow more high-dollar mushroom varieties, as well as explore the use of the product as a compost for diversified vegetable production, container gardening or nurseries.
"The purpose is to add value to the waste that is produced from specialty mushroom production of shiitake, oyster, and lions mane mushrooms to create a growing substrate for more higher-valued almond portobello mushrooms, in addition to exploring other revenue streams with the compost," said Wells.
In the study, Wells starts out with a mix of sawdust and soybean hulls to create a nutrient, protein-rich growing substrate for mushrooms. "This growing technique is the primary way that nature decomposes lignin for smaller microorganisms to digest further into compost," said Wells.
Once the mushrooms have "spent" the substrate, the remaining residue is composted, assessed for nutrient levels, and then recycled as a growing substrate for other mushroom species. Wells is seeing some success with the technique.
"It's very exciting," said Wells. "We can get a weed-free product, full of micro and macro nutrients. You can grow pretty much anything in it." Wells noted its application on his diversified vegetable farm anecdotally produced robust yields.
Wells has another year on the project, but he hopes to bring the results to other small farmers to show them the potential for additional revenue streams.
"Compost and healthy soils are continually lost in conventional agricultural communities and urban development," said Wells. "Providing farmers analysis on the proper disposal and handling of this waste stream could be paramount to not only providing these farms with extra revenue, but also for providing farming communities with a much needed input to keep up with fertility needs and increase the biodiversity needs of our ecosystems."
For more information on Henosis, visit https://www.henosismushrooms.com/, https://www.facebook.com/henosismushrooms, or https://www.instagram.com/henosismushrooms/
Want more information? See the related SARE grant: