BELLE GLADE, Florida – For nearly a century, farmers in southern Florida have been using parasitic wasps, rather than pesticides, as the go-to pest management method in sugarcane. Now University of Florida researchers are hoping to perfect the use of biologicals in organic rice production.
In the Everglades Agricultural Area, confined around Lake Okeechobee, sugarcane is king; Florida produces more sugarcane than any other state. But when sugarcane harvest is done, many farmers switch to rice in the crop rotation.
"In this region of Florida, flooding plays a key role in soil sustainability and nutrient management. This is where rice is a great fit," said Julien Beuzelin, an entomologist at the University of Florida Institute of Food and Agricultural Sciences Everglades Research and Education Center. "But, specifically in organic rice, there are more pests and more yield losses."
Beuzelin and his colleagues received a $19,982 Southern Sustainable Agriculture Research and Education (SSARE) On-Farm Research Grant to study the efficacy of biological control on the rice stink bug in the hopes of emulating the successful pest management program in sugarcane to control the sugarcane borer using parasitoids.
"The sugarcane biological control program is self-sustaining, but we are not there yet with rice," said Beuzelin. "We have good environmental conditions for parasitoids because of our warm winters, so using biological control in rice has potential. If successful, the solution for organic production can also be applied to conventional rice."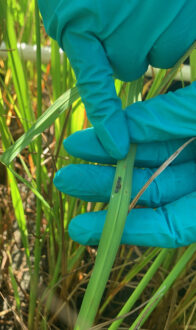 Rice stink bug damage in Florida is caused by two main species, Oebalus pugnax and Oebalus insularis. Stink bugs cause yield reductions by feeding on rice florets and sucking content from rice grain. In addition, the damage invites pathogens, which result in discolored kernels and poor milling quality.
In the first year of the two-year project, Beuzelin, along with graduate student Carolina Tieppo Camarozano, surveyed both organic and conventional rice fields to determine rice stink bug egg parasitism and predation rates, and to identify parasitoids emerging from stink bug eggs and adults. Camarozano has experience in rearing and handling egg parasitoids.
"We wanted to see what we had in the field," said Beuzelin. "These surveys will represent the first research step towards understanding the role of natural enemies and how they can be manipulated for rice stink bug management."
Researchers conducted three surveys for both stink bug adults and eggs – sweeping 9 fields for each survey in both organic and conventional rice in July, August and September of 2022. In addition, they sampled each field by checking plants for eggs harboring potential parasitoids.
Another strategy the researchers evaluated was identifying parasitoids with sentinel eggs. These eggs were laid by adult stink bugs in the lab, then killed so no stink bugs emerged. The eggs were then clipped to rice plants to trap parasitoids.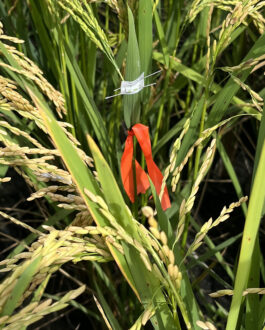 Preliminary data verified that tachinid flies parasitize adult rice stink bugs, but parasitism was low. "That's consistent with what was reported in other states, so that's no surprise," said Beuzelin. "What is exciting is that we found high parasitism in stink bug eggs by parasitic wasps (Telenomus sp.), anywhere from 60 to 70 percent."
Beuzelin said that Telenomus sp. is a common parasitoid that is produced commercially as a biological control. "Releasing wasps to increase parasitism and decrease stink bugs might represent a viable area-wide management strategy," he said. "The ultimate goal of the project is to protect conventional and organic rice yields in Florida while decreasing reliance on pyrethroid applications." Researchers will repeat the study this year, doubling the sample size and improving the method of trapping parasitoids using sentinel eggs. Field experiments will be conducted during late summer 2023 to determine whether parasitoids released in field cages have the potential to control rice stink bugs under Florida conditions.
Sustainability in the Everglades Agricultural Area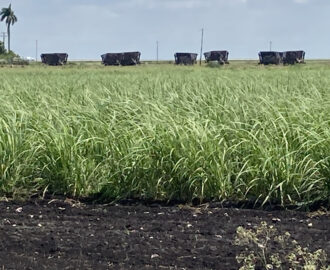 The Everglades Agricultural Area, sandwiched between Lake Okeechobee and the Everglades in south Florida, has arguably the richest cropland in the state. Drained over a century ago for its highly organic muck soils, the area is one of the top-producing in the country for sugarcane with over 400,000 acres, and is 2nd in the nation for fresh market sweet corn. Rice also plays an important role as a rotational crop with sugarcane.
During the winter season, Florida is a major producer of such vegetable crops as lettuce, cabbage, green beans, celery and radish. The Everglades Agricultural Area is so important that it's known as the winter vegetable production capital of the U.S.
Despite its high agricultural value, the Everglades Agricultural Area faces a myriad of challenges due to its unique soil, geography and weather conditions.
Year-round warm weather creates a hotbed of insect pests and diseases, which both farmers and researchers strive to identify sustainable solutions for best management. One example is the work University of Florida entomologists are doing at the Everglades Research and Education Center in Belle Glade to develop a biological control program to manage pests in rice. The work is part of an effort to duplicate the successful self-sustaining integrated pest management program of using parasitoids to control sugarcane pests.
The area's muck soil is so high in organic matter (60 percent to 70 percent) that it decomposes rapidly due to oxidation when microbes break down the organic matter. Researchers have been monitoring this decomposition since 1924 and, at one time, estimated farmers were losing up to an inch of soil per year due to the process. Through best management practices of keeping the fields flooded and maintaining a high water table, farmers have been successful in reducing the decomposition rate to about a half-inch of soil per year.
Flooding plays a key role in soil sustainability and nutrient management. As water flows into Lake Okeechobee from more northern portions of the state, it moves onto farms in the Everglades Agricultural Area on its way to the Everglades. This flow of water poses a concern that fertilizer applications, such as phosphorus, are being discharged in environmentally sensitive areas.


Farmers have been implementing best management practices to control the application of nutrients and to prevent sediment from entering area canals and other waterways. Precision land leveling and canal cleaning are just some examples of best management practices that farmers rigidly adhere to. Additionally, vegetation along canal banks is planted to trap soil sediment.
Such practices are designed to minimize movement of off-site nutrients and drainage discharge, and slow the movement of sediment from agricultural fields into waterways.
University of Florida Everglades Research and Education Center
Want more information? See the related SARE grant: