BOLIGEE, Alabama – A tall, bright yellow banner with the words "Crawfish" in big, black letters displayed at the entrance of Greene Prairie Aquafarm along rural U.S. Highway 43 in western Alabama may be signaling a shift in the aquaculture industry in the state.
Farm owner David Coddington is among a handful of farmers who are raising crawfish as a more profitable alternative to catfish production, and to replace the state's floundering shrimp industry. In fact, Coddington is the only farmer left in the state raising inland, saltwater shrimp.
"Production issues and the lack of a market are the two biggest challenges that have pushed farmers out of shrimp," said Coddington. "There is a growing demand for crawfish and there is less of a production risk raising crawfish than with shrimp."
Coddington, who transitioned three of his 22 shrimp ponds to crawfish in 2019, received a Southern Sustainable Agriculture Research and Education (SSARE) Producer Grant a year later, to evaluate the contribution that crawfish farming can make to a commercial saltwater shrimp farm enterprise as a diversification crop. He is studying such factors as trapping efficiency and the production economics between a traditional crawfish farm and a deep-water crawfish system. If successful, Coddington hopes to transition completely out of shrimp.
Coddington's journey into aquaculture began in 2001 when he bought a 250-acre cattle farm and transformed it into a shrimp farm – over 20, 3.5 foot deep shrimp ponds on 78 acres, which rise into view on the rolling hills of U.S. Highway 43 between Eutaw and Forkland, AL.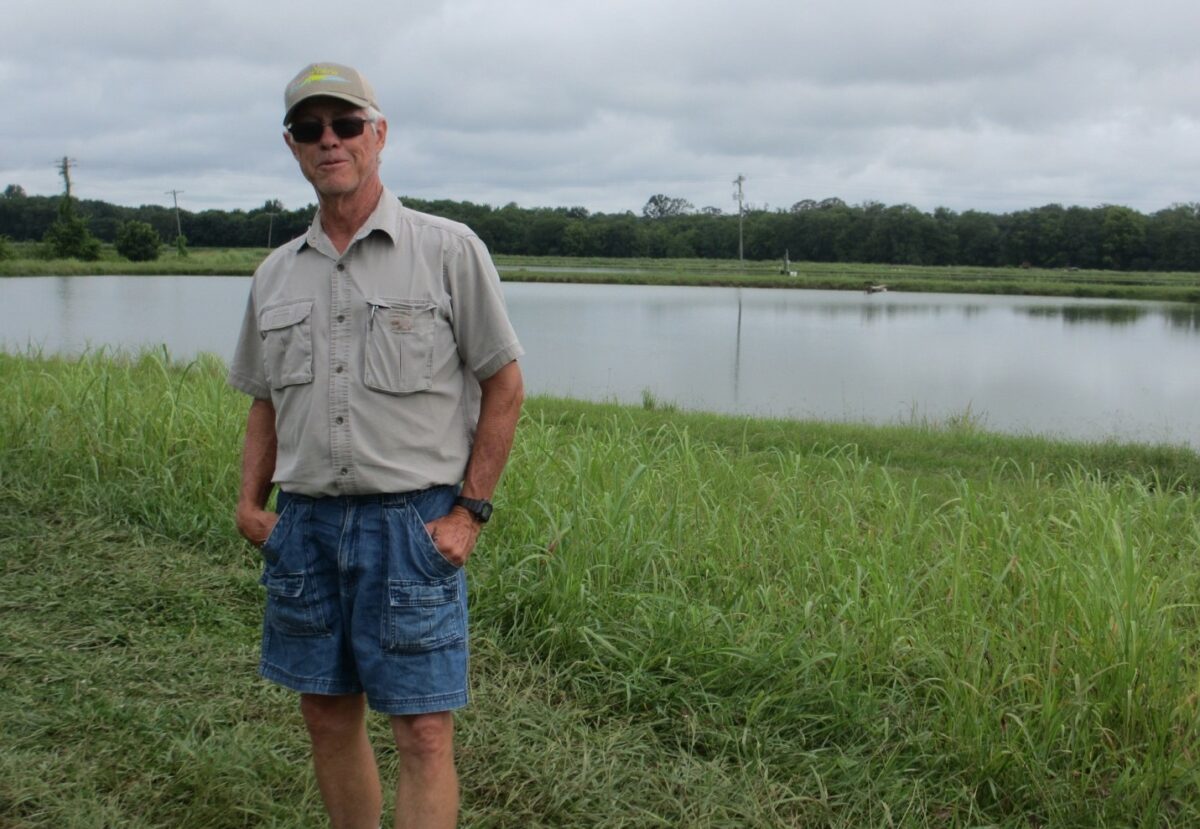 Coddington quickly learned that the prominent limiting factor to sustainable shrimp production is low survival. "My first year in shrimp was a disaster. I lost almost my entire stock," said Coddington. "Turns out the salinity of inland saltwater ponds in Alabama are of a different ionic composition than marine water of similar salinity. I was also having issues with dragonfly nymphs predating shrimp larvae."
Coddington learned about SARE through Auburn University and was successful in receiving a SSARE Producer Grant in 2002 to determine the proper pond salinity acclimation for shrimp and test management strategies to protect shrimp from insect predation.
"The SARE grants were perfect. They were exactly what we needed to test various on-farm issues," said Coddington. "We learned so much with shrimp production with that first SARE grant."
Through the SARE project, Coddington stabilized his ponds to 10 percent of sea water strength for ideal shrimp survival, and learned to stock the ponds early to avoid insect predation. Things were looking up for 12 years with a strong retail market. Then, the bottom fell out last year.
"My largest market retailer pulled out and connecting with the big box stores to sell product has been largely unsuccessful," said Coddington. "The lack of a market is probably the biggest reason why so many farmers have stopped producing shrimp."
To get by on the 150,000-250,000 pounds of white shrimp Coddington raises each year, he sells to local independent grocery stores and direct to customers. He and his son, Joel, make the 5-hour drive to Port Saint Joe, FL to process what's left over. Coddington sees more profit in crawfish, both from a production and a market standpoint.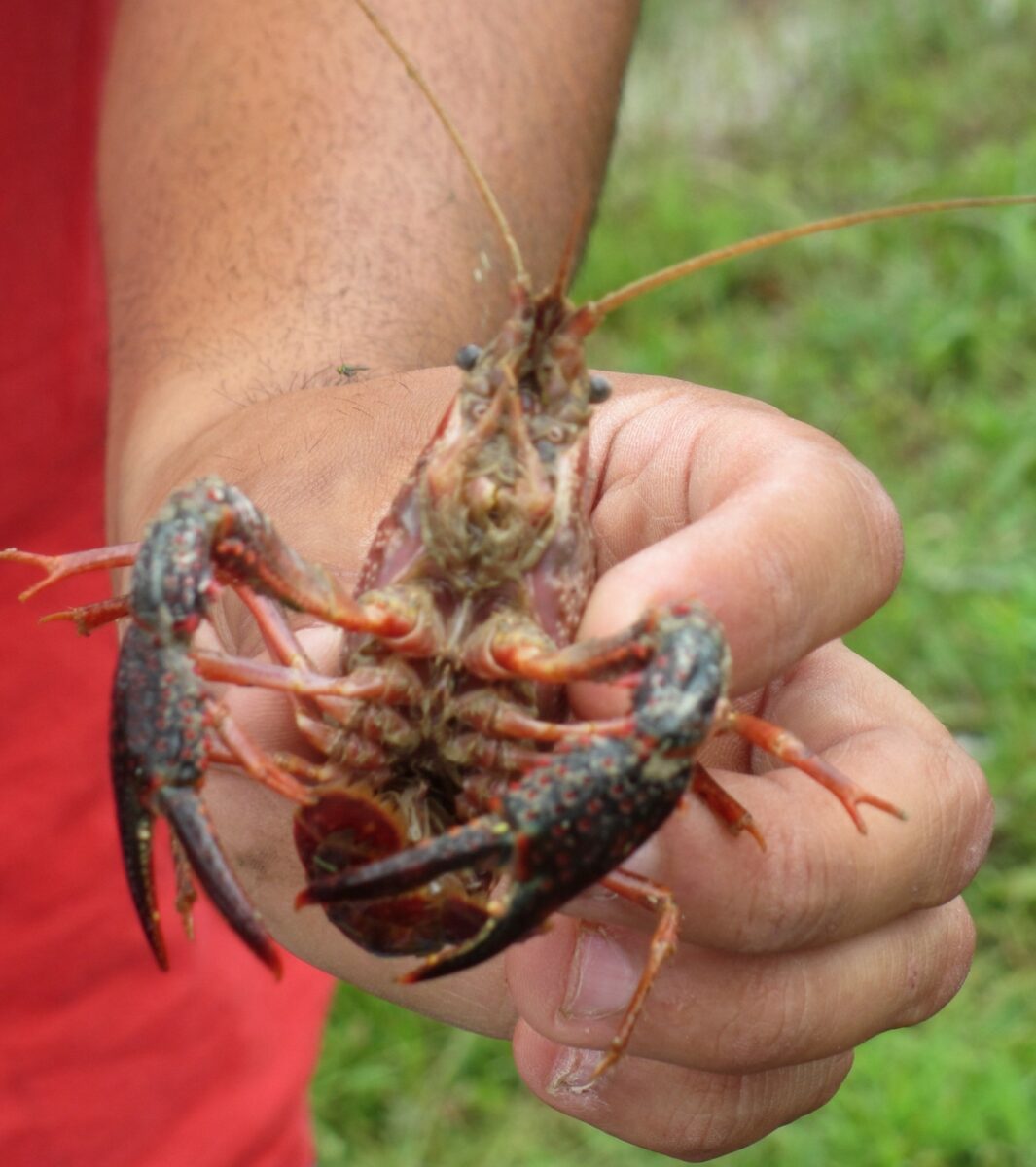 "Crawfish are less risk than shrimp. They are native to this area, can withstand fluctuations in water salinity, are tolerant of colder weather and once established, are self-reproductive," said Coddington. "People are always asking for crawfish. The demand here is high."
The challenge Coddington faces, which he is addressing in his latest SSARE Producer Grant (FS20-322), "Increasing Sustainability of Crawfish and Low Salinity Shrimp Production in West Alabama," is that his ponds are not designed for crawfish production.
Traditional crawfish ponds are generally 1.5 foot deep because they are designed to be drained and seeded with a secondary crop: in Louisiana it's rice; in Alabama it's either Japanese millet or sorghum. Coddington's shrimp ponds are 3.5 feet deep, which makes trapping and harvesting crawfish a challenge.
In the SARE study, Coddington, along with Auburn Alabama Fish Farming Center Extension specialist Luke Roy and farmer Jesse James, are developing enterprise budgets between traditional and deep-water crawfish systems and developing the best feeding methods (using a forage crop, protein pellets, or a combination). In addition, they are analyzing the use of short-neck and long-neck traps for harvesting efficacy and impacts on yields.
Coddington has one year left on the project. So far, he has found that while the long-neck traps tend to result in higher harvest numbers, they are heavier and harder to manage. "When you are running through water up to your chest, the long-neck traps can't be harvested so easily."
In the second year of the study, he plans to modify the ponds by only filling them halfway so that the short-neck traps can be used more effectively.
James, who co-operates German Creek Crawfish in Greensboro, AL, assisted in the study by developing an enterprise budget for his traditional crawfish farm, so that it can be economically compared to a deep-water system. He is also interested in a hybrid system of feeding crawfish with protein pellets and a forage crop, such as hay.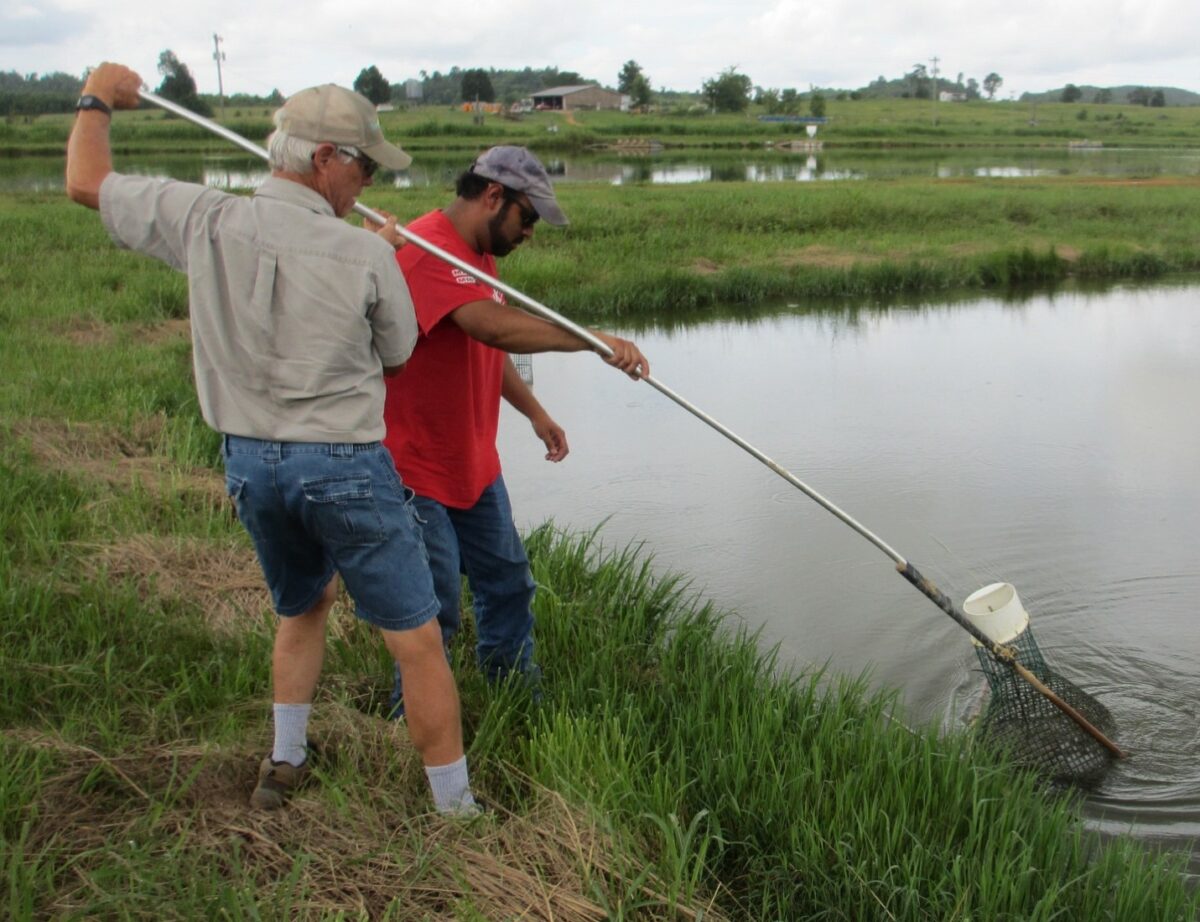 "I'm curious with what we find between the traditional and deep-water systems," said James. "The deep-water system might be ideal for farmers who are getting out of catfish production. A lot of those are old hillside ponds and raising crawfish would be ideal for those types of ponds."
Coddington has high hopes for crawfish at Greene Prairie Aquafarms if he can perfect his production techniques. In 2020, over 1,000 pounds of crawfish were harvested out of three ponds, per the data from the SSARE Producer Grant.
"We did pretty well in our first full year of harvest," said Coddington. Whether the critters are called crawfish, crayfish or mudbugs, Alabama residents can't seem to get enough of them. "I have standing orders for way more crawfish than I can currently produce," said Coddington. "But I hope to change that."
Published by the Southern Region of the Sustainable Agriculture Research and Education (SARE) program. Funded by the USDA National Institute of Food and Agriculture (NIFA), Southern SARE operates under cooperative agreements with the University of Georgia, Fort Valley State University, and the Kerr Center for Sustainable Agriculture to offer competitive grants to advance sustainable agriculture in America's Southern region. This material is based upon work that is supported by the National Institute of Food and Agriculture, U.S. Department of Agriculture, through Southern Sustainable Agriculture Research and Education, under sub-award number: FS20-322. USDA is an equal opportunity employer and service provider. Any opinions, findings, conclusions, or recommendations expressed in this publication are those of the author(s) and do not necessarily reflect the view of the U.S. Department of Agriculture.
Want more information? See the related SARE grant: