Cucumber Anthracnose in Florida
A fact sheet developed by University of Florida on the symptoms, causal organism, disease cycle and management of cucumber anthracnose. The publication was developed from the results of a SSARE-funded study that addressed plant diseases in organic farming systems by targeting soil health as a fundamental principle in achieving a healthy cucumber crop.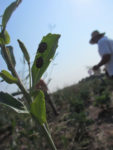 Organic Horticulture Training for the Southeast
An interactive website to help ag professionals develop successful organic education programs.