The educational materials listed on this page are about Soybeans.
Agronomic crops are field crops such as corn, soybeans, wheat and other grains. Soybeans are an important crop for both livestock feed and human consumption. Growing soybeans involves understanding soybean growth stages, the soybean market and production factors such as soybean yield per acre. Soybean farming can be a very profitable enterprise when a producer has enough acreage, the ability to increase soil fertility and a strong understanding of what it takes to increase the average soybean yield per acre. Although a producer has little control over the average soybean price per bushel that the market sets, a number of marketing strategies can be used to increase profit margins, while many production practices and overall soil management can improve the soybean crop in most soybean production systems. Key practices include agronomic, soybeans, cropping systems, cover crops, crop rotation, fertilizers, crop improvement and selection, physical control, soil management.
SARE's Crop Rotation on Organic Farms A Planning Manual is a resource for farmers looking to integrate crop rotation into their operation to enhance organic matter and boost production. The Cover Crop Topic Room is a good starting point to learn about the benefits that cover crops can have on soil fertility to improve yield. A key resource to understanding the critical relationship between soil and crop is SARE's widely used book, Building Soils for Better Crops. This book lays the foundation for understanding soil structure, soil fertility, and overall soil management.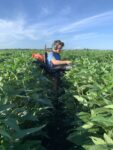 Studying the Impact of Conservation Plantings on Insect Pests and Their Predators
BATON ROUGE, Louisiana – Conservation plantings, through various stewardship programs, do well to provide a myriad of benefits. These range from controlling erosion, to improving water quality, to promoting healthy soils. However, the impacts of such strategies on cash crop pests and the natural enemies that target them is less known. Louisiana State University researchers, […]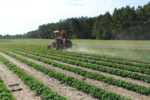 Organic Grain Production Video Series
A series of videos developed by University of Georgia, North Carolina State University and USDA-ARS on organic grain production.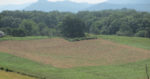 No-Till Cropping Systems in Oklahoma
This publication is designed to assist individuals interested in a no-till cropping system in making decisions that affect the production of their operation.